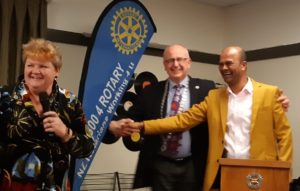 Kia ora
Welcome to the Johnsonville Rotary website. Our club is made up of members from a variety of backgrounds and vocations. We welcome diversity. We are not a secret, religious or political organisation.
We not only provide community and humanitarian projects and services, but also have fun and being a Rotarian is an excellent way to network.
Since it was chartered in 1967 the Rotary Club of Johnsonville has been making a positive difference to the northern suburbs community. This club is part of Rotary District 9940.
Over the last 48 years we've instigated the building of the Keith Spry Pool and led fundraising to construct of the Johnsonville Community Centre. We've helped local organisations – such as Johnsonville and Newlands Plunket (now closed as the new Johnsonville building can accommodate people from the surrounding suburbs), Challenge 2000, Wellington Free Ambulance and the House of Grace that assist people in need. Our youth programmes such as the Rotary Youth Leadership Awards (RYLA) and the Rotary Youth Programme of Enrichment (RYPEN) help young people develop leadership skills, while the club also organised the Johnsonville Christmas Fair for a number of years and – in conjunction with the Life Education Trust – ran an annual bookfair for 14 years which has helped community projects and was big event for booklovers in the northern suburbs.
All these activities are put together by group of northern suburbs residents who enjoy helping people while also having fun. They are members and supporters of the Rotary Club of Johnsonville.
Johnsonville Rotary is part of Rotary International, which has $1.2 million members in 34,000 clubs in more than more 200 countries worldwide. The Rotary family includes the Rotary Foundation, the charitable arm of Rotary which has spent more than $2 billion in a global initiative that has all but eliminated polio from the world.
Whether it is globally or locally, Johnsonville Rotary is making a difference. But we need your help in making sure the good work continues.
If you are interested in Johnsonville Rotary or would like to know more about what we do, please fill in the contact form on this website. We are keen to hear from you.
Where do we meet?
We meet at the Johnsonville Club Restaurant, 1 Norman Lane, Johnsonville, every second and fourth Monday of the month, at 5:50 pm. Variations, usually outings, will be indicated in our programme.
What happens at our meetings?
Our meetings begin with a chance to meet and socialise before dinner. After dinner we have interesting speakers. Our meetings are usually over by 8 pm.
So what is Rotary?
Rotary is an international organisation that's all about people working together to help others, while enjoying the company of members in the process.
For more than a century men and, for many years now, women have joined Rotary to make lasting changes in communities all over the world.
Rotary played a leading role setting up such organisations as Outward Bound, Crippled Children's Society (now called CCS Disability Action), Cure Kids and many others.
Read about our club's projects, past and present here.