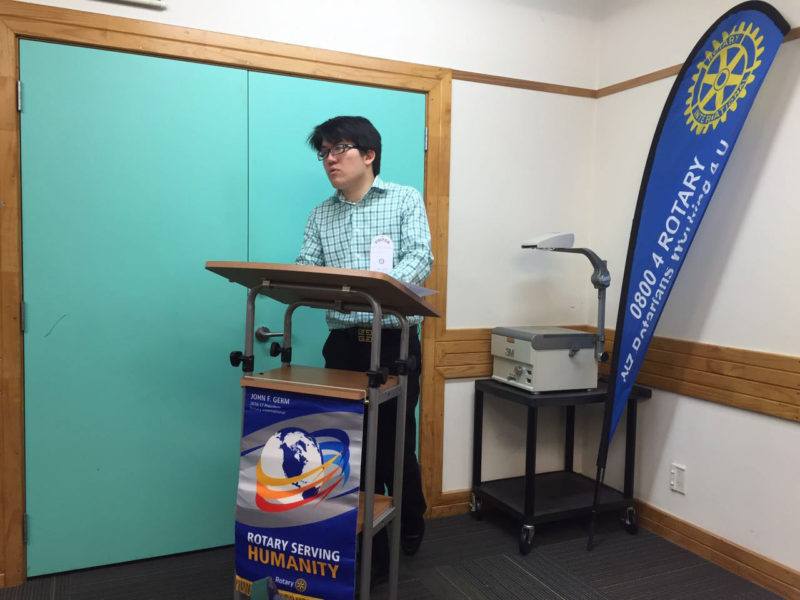 Pengbo Jiang: guest speaker; Johnsonville Rotary: 25 July 2016
Pengbo Jiang spoke to Johnsonville Rotary, on 25 July 2016, about moving from China to New Zealand and how volunteering helps migrants to settle.
He moved to New Zealand as an 11 year old boy from Fuzhou, Northern China. His parents still live in China (he has no siblings). Pengbo was an international student at Newlands Intermediate, competing his schooling at Newlands College. He attended VUW and now has a Bachelor of Commerce and Administration degree. He also gained a Master of Management from Massey University part time, while working full time. He works at Ernst & Young in Wellington as a senior consultant. He is enrolling to do a PHD at VUW and is studying Maori at present.
The move from China as an 11 year old was tough and frightening. He did not know the language or culture. It was all extremely daunting and unsettling, it was a real struggle. But what got him through was the time people volunteered to help him, and the kindness shown. His desire to volunteer and help others arose from this.
At first he could not offer much as a volunteer, but began with small things like opening the door for others, and then helping with the schools' sausage sizzles, then being a buddy to newly arrived international students. Pengbo has volunteered continuously since he was 12 years old and still does so, but now mainly in the evenings and during his weekends. His volunteering has included being a student and business mentor: one of the people he mentored was Johnsonville Rotarian Yao Meng. Pengbo believes that this volunteering has helped him transition from international student to New Zealander.
---