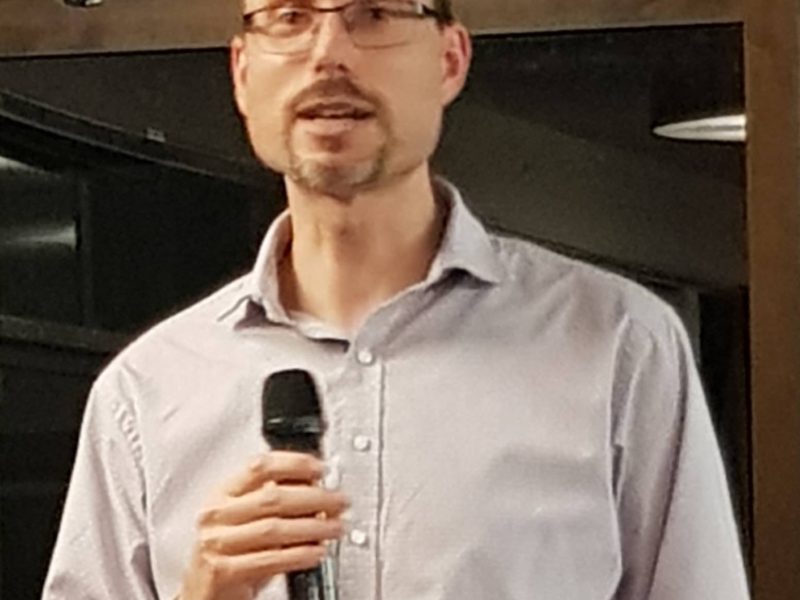 Edwin Hermann was our guest speaker at Johnsonville Rotary on 22 July 2019, speaking about himself and running a community music radio station from Grenada Village. The music is mainly from the 1970s-1990s. But is happy to take requests. The station is one of his hobbies.
The radio station is Mix FM, broadcasting for 24 hours all days of the week in FM on the frequency 87.9 MHz to Grenada Village, Paparangi, Newlands, Churton Park and Johnsonville, and online via the Mix FM website: https://mixfm.nz/
How Edwin got to do this is itself a fascinating story. He is from Switzerland originally, is married and has 2 young daughters, who speak both English and French (reflecting his own Swiss background). He works at Victoria University Wellington in the IT department. He volunteers in disability support on the campus (e.g. by driving students with disabilities between places on the campus). His other activity is as a bell-ringer at the Wellington Cathedral.
How did this all begin? As a teenager in the 1990s Edwin was interested in electronics and made a buzzer for his bedroom and an electronic keypad to be used to get in. He also bought a transmitter from an electrics store, which could transmit to about 3 houses away from his home. When he went to university his interest continued and he transmitted from his university residence room.
He started with music from his own 100 or so albums and other radio albums. He now runs the station from his garage, it takes up a small space, and has a transmitter on the roof (which uses 1 Watt of power). This hobby costs him around $300 a year and he does not earn from the station.
---