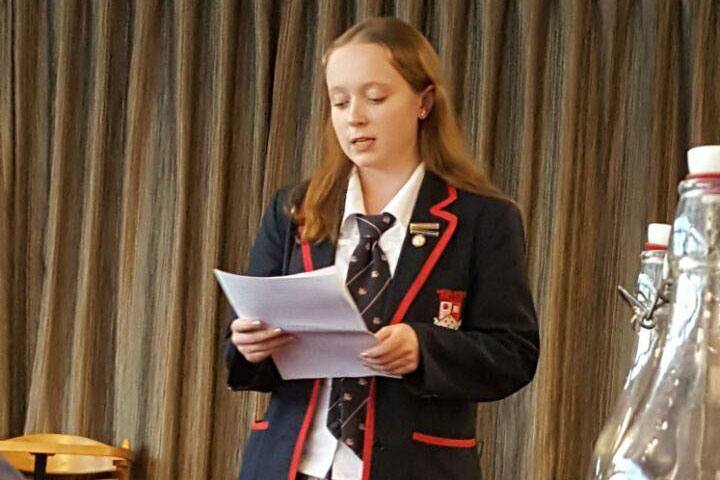 Clarice du Toit's report back
On 13 February 2017 Clarice du Toit, Johnsonville Rotary's candidate, reported back on her attendance at the Rotary National Science and Technology Forum:
Clarice is currently a Year 13 student at Newlands College. From the 14th to the 28th of January, she attended the Rotary National Science and Technology Forum in Auckland along with 168 other students from all over New Zealand. The purpose of the Forum is to bring together like-minded high achieving Science students from diverse backgrounds from New Zealand and overseas, who all share a thirst to discover more. Over the two weeks, they attended lectures, visited businesses, Laboratories as well as several social events. They were exposed to fields of the Sciences that most of them had never heard of before the Forum, or that they didn't before appreciate the importance of. To quote Clarice:
"In the Molecular Biology module, we were paired up and were given the instructions to remove some visible DNA from a Banana. We then followed up by repeating the same process with some of our own DNA. We found that the DNA from the banana was longer than our own, and we were shocked to discover that we, as humans, share about 50% of our DNA with a Banana. At Massey University, we had the Robotics module. We were taught a new type of Algebra and used it to make a robotic car that is able to sense its surroundings and maneuver through a maze un-aided. I enjoyed this module quite a lot, as it involved using Math in combination with creativity and logic, to create something that can function on it's own. Computer aided design involved using a computer programme that can be used as a design tool for 3D printing. One of the most interesting things we learnt about was how 3D printing was being used to design implants that are customized to each person. Bio-printing is the type of 3D printing that is used to print tissues using stem cells to make noses, ears and fingers.
On the second day of the Forum, we received one of the most influential and eye-opening presentations of the entire Forum. As the director of Nanogirl Labs, Michelle Dickinson works with Nanotechnology to develop new types of devices and tools in the Biomedical field of Engineering. For example; she has recently been working with geckos and the way they stick to surfaces, as to mimic it and use it on the 'hands' of medical robots in order to make it easier for the robots to handle and pick up tools. She explained: "Science isn't just a subject, it's a journey of discovering how the world works". That talk alone, was enough for me to see that there was a whole world that I hadn't even thought about exploring. Already my choice of career was starting to shift, and it was only day two.
On the last Friday, I was fortunate enough to be one of the 20 students who went to the Headquarters of Fisher and Paykel Healthcare. My favourite part of this visit was the task of re-designing a Nasal Cannula, which administers oxygen to infants, in a way that solved the problems that were present in current designs. We also were given a tour of the factory floor, and some of the areas where the medical technology is designed and developed. After that visit, I feel excited and inspired because there is now a clear idea in my mind about what type of career I can see myself having and how that career can help me to make an impact in the world of Science.
My experience at the Forum has pointed me in the direction of Engineering, specifically Biomedical Engineering. Not only have I made lifelong friends, but I have met people who are doing incredible things in our world, and who have encouraged and inspired me to do the same. It was an unforgettable experience that challenged me and encouraged me to grow as a person. I will forever be grateful to Rotary for the chance to have had an experience that has shown me how I can make a difference in the world."
---