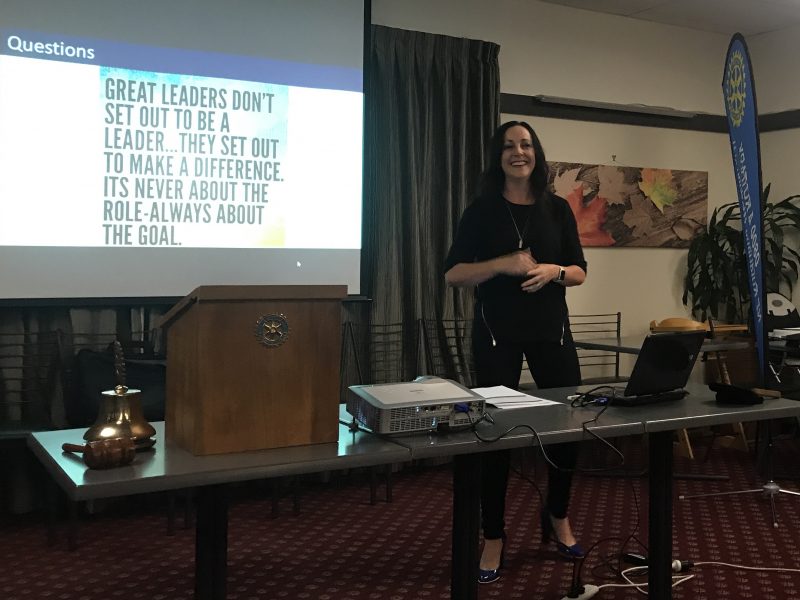 On 22 May Carmen Casagranda spoke to Johnsonville Rotary on "Women in Leadership". The audience included two of the Club's awardees Rosie (our successful Outward Bound candidate) and Clarice (our successful Rotary Science Forum candidate).
Carmen came to Wellington as a child from Calgary in Canada. Even then she loved sport and was a figure skater. She is married to Richard (who hails from Johnsonville), has twin 5-year-old boys, and runs triathlons and coaches at Les Mills.
After school in Wellington, she studied at Victoria University (Wellington) and gained a BCA in Marketing and Management and a BSc in psychology, and a first class honours degree in Marketing in 1998. She has recently been accepted to study at Stanford University (USA). After uni she worked at KPMG for 5 years, doing e-commerce and managed a team of young men. She (and Richard) then went overseas to work, living in Edinburgh and London. She gained diverse work experience (e.g. managing development teams creating computer platforms) while overseas.
Her current work is with Cigna NZ as Chief Information Officer. She joined Cigna in 2009, when she and Richard returned to New Zealand. She had a 6 month break after the birth of the twins and then returned to work (with Richard taking the child-minding role). Carmen has clearly broken through a number of glass ceilings.
In respect of women and young women starting a career, one first has to ignore the stereotyping of young girls, with character, being bossy, while similar characteristics in a young boy will be considered to be showing leadership. Women, when applying for a post will often hold back because they think they can only do 80% of the role, while men will confidently apply for the post even when they can only meet 20% of the criteria. Women should not undervalue themselves and stand back for men on this basis: Women need to stand up for themselves.
Carmen's advice is to be confident, and start with the people and interpersonal relations (before the technology). Be prepared to learn and be humble (but not subservient), stand up for what you believe in and be a good team player. As a team leader, take your team with you, give them responsibility and ownership, and hold them responsible too. Be ruthless with standards, but do so graciously.
A lively and interactive question and discussion session followed. Both Rosie and Clarice were inspired by Carmen's presentation, as, we are sure, the rest of the audience were.
https://www.cio.co.nz/article/616180/cio100-2017-8-carmen-casagranda-cigna-new-zealand/
---